Arugula pineapple salad
Date: Mar 3, 2021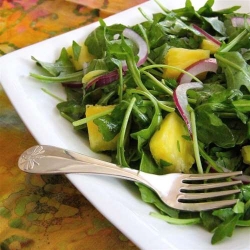 INGREDIENTS

2 cups washed arugula
1 cup sliced, fresh pineapple
1 small red onion, thinly sliced
1 tsp roasted peanuts
2 tbsp crumbled cottage cheese
salt and pepper to taste

FOR THE DRESSING
2 tsp balsamic vinegar
1 tsp honey
1 tsp extra virgin olive oil

Method

Whisk together dressing ingredients in a small bowl,adding olive oil slowly while you whisk, until it emulsifies.
Place arugula on plates, and top with thinly sliced pineapple and sliced red onion.
Sprinkle with roasted peanuts and crumbled cheese
Season lightly with salt and pepper, then drizzle with dressing.