aviyal recipe
Date: May 31, 2023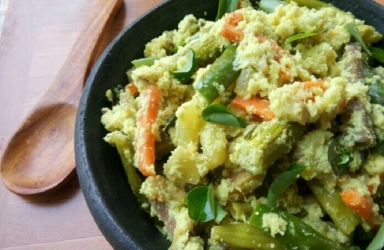 Ingredients
1/2 cucumber
100g pumpkin
1 cup water
1/4 tsp red chilli powder
1 green chilli
1/4 cup curd
salt to taste
1 carrot
1 green banana
1/4 tsp turmeric
1/4 cup coconut
1/2 tsp cumin seed
1 tsp coconut oil
4-5 curry leaves
1/2 tsp Rai
Method
Grind coconut , red chilli powder green chilli, cumin seed and 1-2tbsp water in a mixy Jar.
Till it becomes a smooth paste. Add water if the paste is too thick.
Cut all the veggies into baton shape in a large bowl, add water, a pinch of turmeric and salt and cook until tender.
once the vegetables are cooked, add the previously made paste and mix well. Cover the pan with the lid. Cook for another minute till the vegetables absorb the coconut masala paste. Add curd and toss the vegetables and cook for another minute.
Take a pan, heat coconut oil, add rai and curry leaves .Stir till rai crackles. Top the recipe with this tadka.
serving suggestion: Serve it with a bowl of red rice/ brown rice or any millet.