Avocado veg sandwich
Date: Jun 16, 2021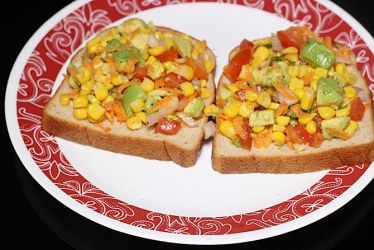 Ingredients
2 slice multigrain sourdough bread/ normal multigrain bread
1 avocado
1 carrot
1 small tomato
2 tbsp frozen corn
Salt and pepper to taste
2 tsp Lime juice
2 tsp finely chopped coriander
1 small onion
2-3 garlic bud

Direction

Cut avocado into 2 halves remove the seed and scoop pulp and chop into small pcs.
Deseed tomatoes and cut into small pieces.chop onion and garlic into small pieces,
Grate carrot.wash and rinse frozen corn.take a mixing bowl and add all the ingredients,add chopped
coriander ,lime juice,salt and pepper.
Grill or toast your bread.spread mixture on your bread.your open toast sandwich is ready to eat.
The mixture prepared does not need resting.Use it instantly.