Broccoli & celery soup
Date: May 18, 2018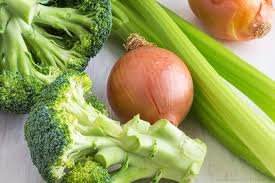 Serves- 4
Ingredients
Broccoli 200 gm chopped into florets
Cauliflower – 200gm chopped into florets
Onion 1 medium chopped
Celery – 2 small sticks, chopped
Garlic – 1 clove cursed
Water- 2 cup
Skim milk- ¼ cup
Mint leaves 4-5 chopped
Oil 1 tsp
Salt to taste
Fresh ground pepper to taste.
Method- heat oil in a large saucepan, add garlic and onion, and stir fry till soft.
Add 1 ½ cup water, celery, broccoli and cauliflower into it, bring to a boil.
Reduce heat and simmer till vegetables are tender.
Blend mixture till smooth. Return to pan.
Stir on high heat till it comes back to boil. Allow to boil till thickened.