Chicken or baked chicken with pineapple salsa
Date: May 22, 2018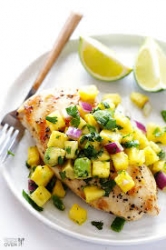 Ingredients-
1 chicken breast
1tsp olive oil
Pepper, salt to taste
1cup fresh pineapple, cut into ½ inch cubes
1 large jalapeno, seeded and finely diced
1tbsp red onion, finely diced
1tsp lemon juice
Small handful of coriander roughly chopped plus more for garnish
Method-
Heat grill to medium – high chicken breast to an even thickness, spray or lightly brush chicken breast with olive oil and sprinkle salt and pepper.
Grill 3-4 minutes, each side. Olive oil over medium high. Add pineapple, jalapeno and red onion. Cook for 2 min. until the vegetable have softened. Turn off the heat, stir in the lemon juice.
Serve the chicken topped with pineapple salsa.