Chicken tikka salad
Date: Feb 11, 2023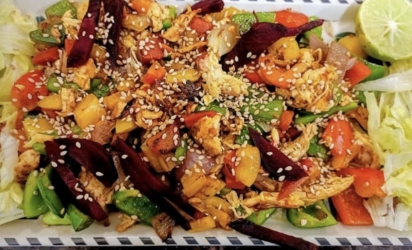 Ingredients
4-5 pcs chicken tikka ,cut into 2
1 green apple, thinly sliced
a fistful lettuce
1/2 cup red yellow bellpepper, thinly sliced
salt nd pepper to taste
1 tsp toasted sesame seed
Dressing
1/2 tsp coconut sugar or khaand
1 tsp lime juice
1/2 tsp tabasco
Method
Take a small bowl add all the ingredients of dressing and mix well. Add salt and pepper too.
Take a big bowl , put all the veggies and Green apple.Now add the dressing to it and mix well. put chicken tikka and toss it for 1 or 2 times.sprinkle sesame seed
Vegetarian can replace chicken tikka with paneer tikka or tofu.