couscous chick pea salad
Date: Jun 21, 2021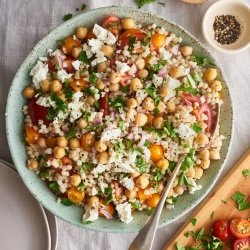 cousocus chickpea salad
Ingredients
1/3rd cup couscous
a pinch of pepper
a pinch of salt
1 cup water
1 tsp extra-virgin olive oil
1 tsp fresh lemon juice
1 tsp minced garlic
2 tsp chopped parsley
1/4th cup thinly sliced onions
1/2 cup boiled chick pea
1 large ripe tomato, chopped
20-30 g paneer/ cottage cubes
salt and pepper to taste
Method for cooking couscous
Add hot water to couscous, stir in salt and pepper and cover with a lid.let it stand 2-3 minutes. Fluff with a fork.drain out extra water if left.
Whisk oil,lime juice and garlic in a bowl.
Take another bowl. Add chick pea, tomatoes, onion ,couscous, parsley , salt pepper and the oil garlic mixture.Mix well and top it with cubes of paneer.