Couscous Salad
Date: May 2, 2019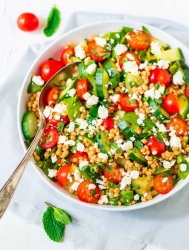 Ingredients :Serve 2

1 cup couscous

Salt and fresh ground black pepper

1 tbsp spoon olive oil

1 teaspoon crushed garlic

1/2 teaspoon honey

2 tbsp fresh squeezed lemon juice

1 zucchini, diced

1 large tomato, diced

1/2 cup coarsely chopped fresh parsley

50 g feta cheese,scrambled.


Method :

Bring a large saucepan of 1 litre salted water to a boil. Add couscous, cover with lid and turn the flame off. Leave it for 10-15 minutes, till become tender. Drain Excess water.

While the couscous cooks, in a large bowl, whisk the oil, garlic, honey, lemon juice, 1/2 teaspoon of salt, and 1/4 teaspoon pepper. Add the drained couscous to the dressing and mix well. Add all the veggies and feta cheese and toss it well. Adjust the seasoning, salt and pepper as per your taste.