crispy tofu with veggies
Date: Jan 18, 2021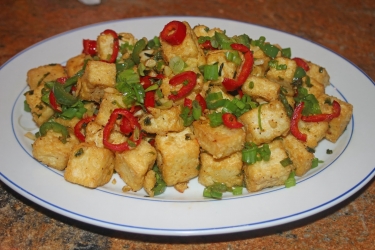 Ingredients
100g Tofu
1/2 cup chopped green onion
1/2 cup sliced red yellow bellpepper
1 tsp crushed garlic
2 tbsp rice flour
2 tsp olive oil
1/2 tsp chilli powder
1/4 tsp turmeric powder
1/2 tsp chaat masala
salt to taste
3 tsp lime juice
Method
wash tofu in water. dry it properly with a kitchen towel. cut into small cubes.
Take a bowl add olive oil,2 tsp lime juice,crushed garlic,turmeric, chaat masala,salt and red chilli powder and mix properly.
Then add tofu and coat it well in the mixture. Cover and keep aside for 1/2 an hour.
When the tofu is marinated,coat tofu with rice flour. Preheat the Air fryer at 200°C. place the marinated tofu.Let it grill for 10 minutes.
If you don't have an Air fryer, use a preheated oven and spread the tofu on a lined baking tray and bake for around 15 minutes in a preheated oven at 190°C or until golden and crisp.
Take out in plate add bellpeppers, green onion, lime juice and sprinkle little salt. your crispy Tofu is ready to serve.