Egg shakshuka
Date: Aug 7, 2021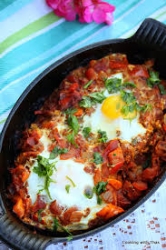 Ingredients:
Egg-2
Chopped yellow and green capsicum-1/3rd cup
Chopped onion-1 (medium)
Chopped green chilli-1
Chopped garlic-3-4
Tomato puree- 2 tbsp
olive oil 2 tsp
Turmeric powder- 1/3rd tsp
Red chilli powder-1/3rd tsp
Cumin powder-1/3rd tsp
Coriander powder-1/3rd tsp
Salt to taste
Black pepper(grounded)
mixed herb/ italian seasoning-1 tsp
Chopped coriander leaves
method
Take a pan,add olive oil and heat it. now add chopped green chilli and garlic and saute for 1 min. then add chopped onion and saute till cooked.Add capsicum and cook for 2 mins. Add tomato puree, salt , turmeric powder, dhania powder,garam masala, cumin powder,red chilli powder and cook for 2 mins. add 1/3rd cup water and cook for 1 min till become little thick gravy. Now take a bowl, break one egg and pour in the bowl. now with the help of a spoon make a little space in the middle of the gravy and put the egg. now break another egg , make another space in the pan and put the egg. sprinkle little salt over the egg and cover the pan with the lid and cook till eggs are cooked.
with the help of a fork check if eggs are cooked or not. once eggs are cooked.switch off the flame, sprinkle grounded pepper, mixed herbs and garnish corainader leaves.
cut into 2 pieces with the help of knife and serve hot.