Fish in mustard sauce.
Date: Sep 10, 2021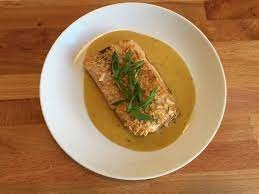 Ingredients
100gm fish fillets ( surmai/ salmon/ sole)
2 tsp mustard seeds
2 tsp freshly chopped coriander
2 tsp olive oil
2 tsp lime juice
salt and pepper to taste
baking sheet
Method
Take a baking tray. arrange baking sheet on it. put fish fillet on it. grease all fish fillet with olive oil using a brush on both the side.sprinkle salt and pepper.
Now take mustard seed and 1 tbsp water and churn in mixy for few mins till you get rough paste of mustard. Take a bowl put this mustard paste, olive oil, chopped coriander,lime juice and mix well. apply this mixture on fish fillet with the help of a brush and airfry it .