glossy black rice veg bowl
Date: Jan 27, 2021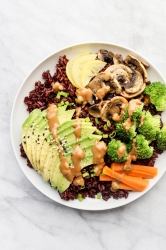 Ingredients

1/3 cup black rice
2 cup water
1/2 cup broccoli florets
1/2 avocado, cut into slices
6 mushrooms,sliced
1 tbsp green onions, chopped
1 small carrot thinly sliced
salt and pepper to taste
1 tsp toasted sesame seed
2 tsp olive oil

For Dressing
2 tsp naturally brewed soy sauce
1 tsp Honey
1 tsp sriracha


In a pot take 1 cup of water.Bring the water to a boil. Add the rice and salt. Cover, reduce the heat to low-medium and simmer for about 30 minutes until the rice is cooked. Drain the rice and set aside.

Take another pot boil water and put broccoli ,carrots to it and switch off the flame and cover the pot.After 15-20 mins drain out water

Heat a skillet over medium heat, add 1 tsp olive oil and saute the mushrooms for 5 minutes until mushrooms are browned.

For Dressing, take a small bowl add soy sauce , honey, olive oil and sriracha and mix them well.

now take a serving bowl , put cooked rice at the base of the bowl and arrange sliced avocado ,veggies nicely on the top of rice, garnish green onion, drizzle the dressing on the top and sprinkle sesame seeds and black pepper.