GUACAMOLE
Date: Jun 22, 2017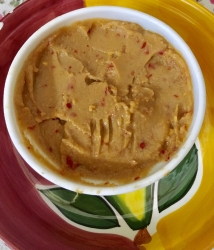 GUACAMOLE
Avocado is a good source of saturated fatty acid.It is healthy if taken smartly.it is also a good source of antioxidants. Avocados are delicious and can be used in various recipes like salads,dip etc.
Here is a recipe of Guacamole which can be served as a dip or can be used as dressing over salad or a spread.
Ingredients
Ripe avocado-1 (peeled, halved)
Ripe tomato - 1(chopped)
Cucumber -½ cup (seedless)
Green lahsun -¼ cup (chopped)
Fresh lime juice-2 tbsp
Fresh coriander-2tbsp (chopped)
Garlic-1 clove (minced)
Salt to taste
Method- Take a large bowl. Mash the avocado with a fork. Take a blender and mix all the ingredients and make smooth paste. Guacamole is ready.