Healthy Dinner Recipes for weight loss
Date: Feb 15, 2019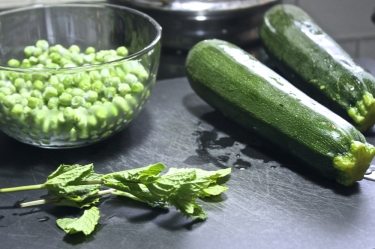 1:-Zucchini noodle with chicken/ paneer

Ingredients

1 large zucchini
70 gm chicken boneless (cut into pieces)/ paneer
salt to taste
Ground black pepper- to taste
1 tsp olive oil
1 medium lime, juice
1 table spoon pesto sauce

Method

Using a spiralizer, make zucchini noodles, transfer into a colander, set aside.let the excess water drain out. if you don\'t have spriralizer, you can buy zucchini noodles from big super mart.
Heat 1/2 tea spoon oil in a large skillet over medium heat. Cook chicken/paneer with ¼ teaspoon salt until cooked ( paneer just turn golden brown).Transfer to a large bowl and stir in 1/2 table spoon pesto .

Add the remaining 1/2 teaspoon oil to the pan. Add the drained zucchini noodles and stir gently until hot for 2 to 3 minutes.

Transfer to the bowl with the chicken/paneer. Add the remaining 1/2 table spoon and toss gently to coat.


2:- Matar ghugni

Ingredients:

100 gm- fresh peas
¼ Cup -Fresh Coriander Leaves
Salt - to taste
1 tsp -Mustard Oil
4-5 - Cloves of Garlic (finely chopped)
¼ tsp- Black Pepper
2 - Green Chilies (finely chopped)
1 tsp- Cumin Seeds
1 tbsp chopped onion to garnish
1 tbsp chopped tomatoes to garnish

Method-

Put 1 tsp Mustard oil in a pan. Allow oil to heat up.
Add cumin Seeds, chopped Garlic and chopped green chilies. Stir until Garlic becomes light brown in color.
Add fresh green peas and mix well. Add some coriander leaves and salt. Mix well.
Cover and cook until green peas are completely done.Do not overcook, add crushed black pepper, remaining coriander leaves. Mix again.
Switch off the heat. Garnish with tomatoes and onion. Ghugni is ready to be served.