kimchi salad
Date: Jun 18, 2022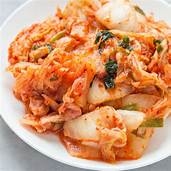 Ingredients of Kimchi Salad

250 gm cabbage/romaine lettuce or a mix of both.
2 tsp vinegar
1 teaspoon red chilli powder
1/2 a inch ginger
2 tsp virgin olive oil
1/4 cup green onion
4 cloves of garlic
1 teaspoon naturally brewed soy sauce
1 teaspoon powdered sugar
salt and pepper taste

Method
shred the cabbage finely, chop the green onions along with garlic cloves and ginger. Add the onions and cabbage in a large bowl.


Take a bowl and, add vinegar, red chilli powder, soy sauce and powdered sugar. Mix it well and then transfer this to a blender jar. Now, add the chopped garlic, ginger, olive oil, salt along with black pepper and blend it .

Pour this dressing over the shredded cabbage and onions and toss to combine well. Make sure that all vegetables are evenly coated with the dressing. Now cover it and place the bowl in the fridge. Traditionally Kimchi is fermented for 2-3 days by keeping it in sun for 5-6 hours daily. But you can forgo the process.

Keep it in the fridge overnight. Serve it chilled for the best taste!