Lettuce Chicken Wrap
Date: Sep 12, 2019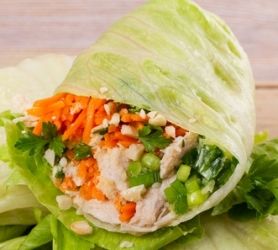 Ingredients

1 tsp olive oil
100 gm bone less chicken, chopped into very small pieces/ tofu / paneer
4 cloves garlic (minced)
1/4 cup onion( chopped)
1 carrot ( cut into thin slices)
1/4 cup purple cabbage finely chopped
2 green onions (chopped)
salt and pepper to taste
1 tbsp roasted and crushed peanuts
2 ice berg lettuce leaf

For the sauce:

1 tsp sweet chili sauce
1/2 teaspoon freshly grated ginger
1 teaspoons naturally brewed light soya sauce
1/4 cup fresh cilantro (chopped)
1/2 tsp red pepper flakes


Method

Heat oil in a large skillet over medium flame. Add chicken pieces and cook till tender.Add garlic onion,salt, black pepper and stir occasionally. Then add carrots, cabbage, and green onions, and cook for 2 more minutes.
In a small bowl combine the sweet chili sauce, ginger, soy sauce, and crushed red pepper. Stir until smooth.
Add sauce,cilantro and crushed peanuts to the mixture.Toss them well.
Spoon mixture into individual lettuce cups and wrap it.