Mango and lettuce salad with chicken/tofu/paneer
Date: Jul 14, 2017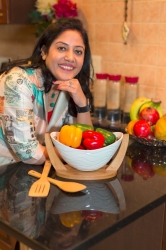 Mango and lettuce salad with chicken/tofu/paneer
Salads are rich source of many nutrients especially fiber and antioxidants. It can be your best friend if you want to lose some weight. Salads are also known to prevent constipation.
Ingredients
2 tbsp lime juice
1 tbsp olive oil
1 tbsp Thai sweet chili sauce
1 ripe mango, chopped
1/4rth cup freshly chopped mint
2 cup chopped lettuce leaves
3-4 clove crushed garlic
100gms boiled and cubed chicken/ tofu/ paneer
Salt and pepper to taste
Preparation
Combine lime juice, oil, Thai sauce, garlic in a large bowl and stir it well. Add veggies, chopped mango and chicken/ paneer /tofu and mix it well. Leave it for 10-20 mins and serve.