Mango salsa for summer
Date: Jun 12, 2021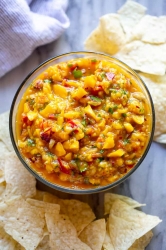 Ingredients
1/2 small ripe mango,peeled and chopped.
1 onion,chopped.
2 tomato,chopped
2 tsp lime juice
salt to taste
2 cloves of garlic, chopped
2 green chilli,chopped
Method
Put all the ingredients in a hand blender and blend it for just 10 to 20 seconds. keep it little chunky.
Serving Suggestion : you can spread it on your bread slice or eat it with cucumber/carrot stick.