Marinated methi tofu tikka
Date: May 17, 2018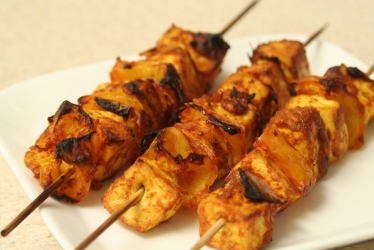 Serving- 4
Ingredients-
Tofu- 250 gm
Kasoori methi powder – 2 tbsp
Spinach paste (just to give green color)- 2 tbsp
Low fat yoghurt- 1 cup
Garlic paste 1 tbsp
Ginger paste- 1 tbsp
Garam masala powder- 1 tsp
Lime juice – 2 tsp
Fresh coriander leaves- 2 tbsp, chopped (for garnishing)
Green chilies- 5 chopped
Shahi jeera – ½ tsp
Salt and pepper to taste
Method-
Cut tofu into 1 inch cubes
Add salt, black pepper powder, roasted jeera powder, garam masala and lemon juice.
Keep it aside for 1-2 hours until the masala is absorbed into the tofu.
In a mixing bowl, add yoghurt, spinach paste, ginger, garlic, kasoori methi and green chilies mix until smooth paste.
Now add marinated tofu into this smooth paste. Keep it for 15 to 20 minutes.
Take a skewer, skew piece of tofu. Skew five pieces in the same manner and grill over griller for 10- 15 min or grill it directly on a hot plate on in non stick pan
Serve hot garnished with chopped coriander leaves.