Oats khichri
Date: Jul 17, 2018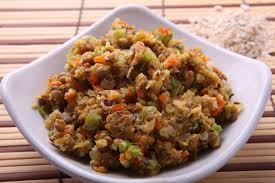 ½ cup steel cut oats
½ cup yellow moong dal
½ tsp olive oil
1 tsp mustard seeds
1 tsp green chilli(chopped)
2 ts chopped garlic(optional)
1ts ginger (chopped)
6-8 curry leaves
½ tsp turmeric powder
½ tsp chilli powder
2-3 cup hot water
Salt to taste
Method- soak moong dal in water for 30 min.
Heat oil and add mustard seeds
After spluttering, add green chili, garlic, ginger, curry leaves, turmeric powder, chili powder, cumin, and coriander powder, sauté for few seconds.
Add oats and moong dal. Sauté for few minutes again. Add hot water and salt. Pressure cook for 2-3 whistles.
Serve hot with dahi or mint chutney.