Oats Strawberry Cake
Date: Dec 22, 2017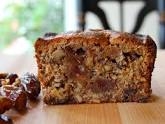 Oats Strawberry Cake

Ingredients:

All Purpose Flour / Maida - 3/4 cup / 90 grams
Instant Cooking Oats - 1/2 cup
Baking Powder - 1.5 tsp
Salt - a pinch
Cinnamon Powder - 1/4 tsp
Unsalted Butter - 4 tbsp
1/2 cup soaked and pureed dates
Vanilla Essence - 1 tsp
Baking soda-1/4 tsp
Nuts – 5-6 almond.
Milk - 1 cup

For garnishing

Strawberry-6
Sugar free nautra-1 tbsp
jaggery-1 tsp(optional)
Water-1 tbsp
Grapes-(black and green)7-8 (cut into halves)
Method for strawberry sauce-
Cut strawberries into small pieces. Take a pan on medium heat.Add strawberries, sugarfree natura, jaggery and water. Mix properly .Cook for 5 minutes. Now strawberries are properly cooked .Allow it to cool. Make smooth paste in grinder. Sauce is ready.
FOR CAKE

Preheat oven to 180 degree C. Take a cake pan and grease with oil and dust it with flour, coat it on all sides, Tap off the excess and set aside, Bring milk to a boil. Pour this over the oats and mix well. Set aside for 30 mins. Sieve flour, baking powder, salt, cinnamon well and set aside. Take butter in a bowl, pureed dates and whisk it well. Add in baking soda, vanilla and oats and mix well. Now add in the flour mix and fold gently. Add in the nuts and fold gently. Spoon this into the cake pan and bake for 45 mins. Check it with toothpick for done. Remove it and cool it down. Spread strawberry sauce over it and decorate with grapes and strawberries. Cut it into pieces and serve.