Open Toast Egg Sandwich
Date: Dec 7, 2018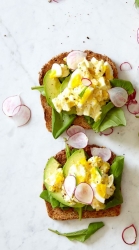 Ingredients : For 1 serve
1 tbsp hung curd/ set curd
2-3 leeks, thinly sliced
1/2 tsp honey mustard
1/2 tsp fresh lemon juice
salt to taste
1 hard boiled egg, chopped
1/4 cup arugula, baby variety
1/4 medium avocado, thinly sliced
1 slice whole bread, toasted
1/2 small fresh radish,very thinly sliced

Method
In a medium mixing bowl, combine hungcurd,leek, mustard, lemon juice and salt. Stir in chopped eggs.

Top the toast with arugula, slices of avocado and egg salad. Garnish with radish.