paneer stuffed mushroom
Date: Sep 3, 2021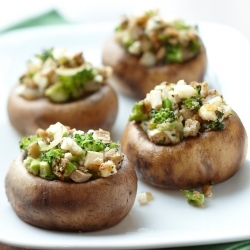 Ingredients
7-8 pcs button Mushroom
50 g paneer
2 tsp freshly chopped coriander
2 tsp lime juice
2 tsp chopped garlic
1/2 tsp roasted cumin powder
1/2 tsp garam masala
1 tsp chopped green chilli
salt and pepper to taste
1 tsp oil for greasing
method
Take mushroom in a dish and wash it properly. Dry it with the help of kitchen towel.
now cut the tail portion of the portion in such a way to make hollow inside the head part.
Take a mixing bowl finely chopped the tail part of the mushroom. Add chopped coriander, lime juice, garam masala, cumin powder,green chilli, garlic,paneer and salt and pepper. Mix it well.Take small portion of the mixture and stuff it inside the mushroom head and press it with the help of a spoon. In this way fill all the mushroom head.Grease all the mushrooms with the oil and airfry it. your stuffed mushroom is ready to serve.