Pearl Barley and chick pea salad
Date: Jul 22, 2020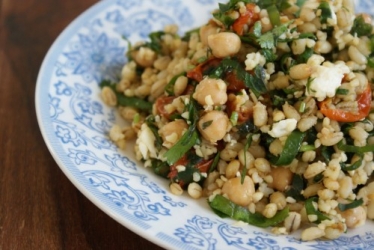 INGREDIENTS
1/2 cup Pearl Barley
1 teaspoon olive oil
2 tsp Roasted sunflower seeds
1/2 cup soaked Chickpeas
50 gms feta cheese/paneer, cut in small cubes
1 tbsp chopped fresh dill
2 tablespoons fresh lemon juice
1 tsp lime juice
Salt and pepper to taste
1 tsp dried oregano
2 tsp balsamic vinegar
Method-----Boil chick peas in water and keep aside.
Soak pearl barley for 1/2 an hour and then boil in water Untill become tender.Drain out extra water.
Now take a big Serving bowl add barley and chick peas.
In a small bowl add lime juice, balsamic vinegar, Olive oil,dried oregano,salt and pepper and mix well.
add this dressing on top of Barley and chick peas mixture .
Add fresh dill leaves and feta cheese or paneer to it and mix well.
sprinkle Roasted sunflower seeds before serving.