Pomelo salad
Date: Sep 15, 2023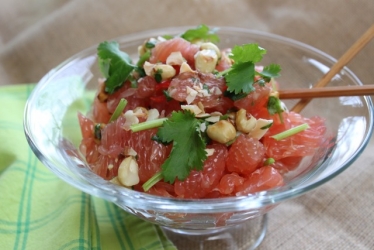 Ingredients
1/2 pomelo
1/2 cup cherry tomato, cut into halves
1 tbsp mint leaves
2 tsp sweet chilly dressing
2 tsp lemon juice
1 tbsp crushed roasted peanuts
salt to taste
1 tbsp finely chopped red onion.
Method
Peel the pomelo and collect the pulp with the help of a knife and place in a bowl. Add mint leaves, cherry tomatoes, red onion and crushed peanuts.
Take another small bowl add lime juice , salt and sweet chilly dressing and mix well. Add this dressing to the salad bowl and mix well with a spatula.