Quesadillas
Date: Aug 28, 2020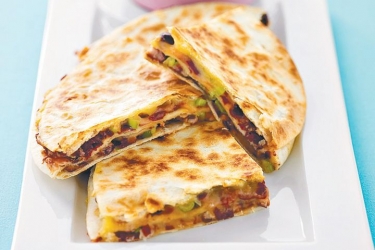 Ingredients
1 cup whole wheat flour
1/3 rd Cup Maize Flour
2 tsp Mozarella cheese
1/2 tsp Italian seasoning
1/2 tsp paprika/Chilly powder
2-3 thinly sliced button mushrooms
2 tsp olives
2 tsp chopped onion
2 tsp chopped Jalapeno
1 tsp olive oil
salt and pepper to taste
For Home made Tomato Spread
1 cup chopped tomatoes
3 to4 chopped garlic cloves
salt to taste
1/4 th tsp chilly flakes
1/2 tsp italian seasoning
Method
knead wheat flour,Maize flour with water to make soft dough.Let it rest for 10 minutes then Roll out two thin Chapatis.
Mix chopped Mushrooms,onions,Jalepano,olives in a bowl ,add salt, paprika powder and 1/2 tsp Italian seasoning
Now spread the cooked tomatoes on one side of tortillas.sprinkle cheese all over it.Then spread veggies on it and cover with the second tortila.
Heat a Non stick Tava in medium flame and grease with olive oil.Put the tortilla on tava and press from the sides to close its properly.once the cheese start melting, turn upside down and cook from both the sides. Once cooked transfer to a plate and cut into four parts. serve with some Salsa/Honey Mustard.
Method for tomato Spread-take a pan ,add 1/2 tsp olive oil ,let it heat ,add chopped garlic ,let it roast for 1/2 minute.
once it turned Golden,add chopped tomatoes,stir and cook for 2 minutes on high flame,add salt and chilly flakes,Stir it again add Italian seasoning/Oragano and switch of the gas.let it rest for 5 minutes