Quinoa Hot Pot Meal
Date: Nov 20, 2023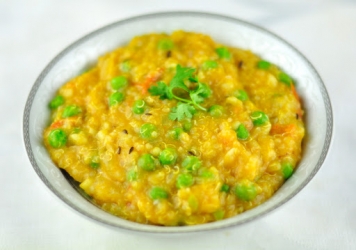 Ingredients
1/4th cup quinoa
1/2 cup yellow moong dal
1 cup chopped veggies of your choice ( carrot , peas , beans, palak)
1 small onion,chopped
1 small tomato,chopped
1/2 tsp cumin seeds
1/2 tsp crushed ginger
1 bay leaf
a pinch of Hing
1 tsp Ghee or oil
salt to taste
green chilli ( optional)
1- Wash quinoa 2-3 times properly in water. Take a heavy bottom pan,and heat it. Add the oil or ghee and then add the bay leaf and cumin seeds.
Let the seeds sizzle for few seconds and then add the hing and stir.
2- Add the onion, ginger,and cook for 1 minute until softened.
3- Add chopped vegetable and stir.
4- Add yellow moong dal and quinoa.
5. Add 1 and 1/2 cup water, salt to taste and cook.
6. you can Adjust water as per the consistency of khichri you like.