Quinoa Mushroom Soup
Date: Sep 26, 2018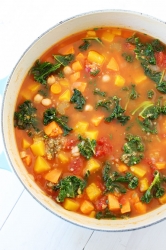 INGREDIENTS:
1 teaspoon olive oil
1 onion, diced
2 carrots, peeled and diced
1 celery stalks, diced
3 cloves garlic, minced
2 bay leaves
5-6 pieces of white mushrooms, stems removed and sliced
1 cup vegetable broth
1/2 cup quinoa(1/2 cooked)
Salt and black pepper to taste

method-
Cook quinoa in water for 10 minutes over medium heat. Strain water and keep quinoa aside.
Place a soup pot over medium heat and coat with the olive oil. Add the onion, carrots, and celery and cook until tender, about 5 minutes. Stir in the garlic, bay leaves and mushrooms. Cook until mushrooms are tender, about 5 minutes.
Pour in the vegetable broth and bring the liquid to a boil. Add the quinoa and continue to simmer for 10 minutes to cook the quinoa. Stir the soup occasionally while simmering. Season with salt and black pepper to taste. Ladle into bowls and serve.