Quinoa salad
Date: Mar 22, 2017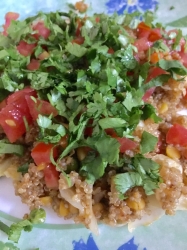 Quinoa salad
Enjoy this salad which is rich in protein and fibre.You can also do many variations by changing herbs of your choices.
Ingredients:-
Quinoa-2 tbsp
Orange-1/2 (cut into small pieces)
Avocado-1/2 cup cut into small pieces
Arugula (salad rocket)-1 cup (can take any other leaves)
Dressings-
Crushed garlic -1/2 tsp
Cilantro and fresh mint leaves-1 tsp
Extra virgin olive oil-1 tsp
Honey-1tsp
Limejuice-2 tsp
Method- Boil quinoa in 1 liter water for 10 minutes and keep it covered for five minutes. Now throw the extra water and strain it. Keep aside for cooling. Take all ingredients in a big bowl. Mix all dressing in another bowl properly and pour it over the salad before eating.