radish and spinach soup
Date: Nov 5, 2022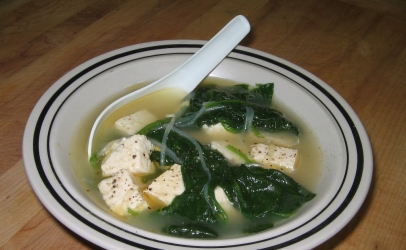 Ingredients
2 Medium radishes, peeled
1 stalk spring onion with greens
1 tbsp vegetable oil
20 gms leeks (minced)
a fist full baby spinach
1 tsp ginger, grated
1/2 litre veg stock
1 tsp miso paste,
1 tsp light soya sauce
salt to taste
50g tofu cubes, roasted
1/2 orange (juiced)
A pinch of togarashi pepper (A Japenese condiment, you can substitute with red chilli pepper)
Method
1.Heat oil in a pan, sauté radishes,and spring onion with greens
2.Add minced leeks and spinach and give it a nice mix.
3.Add the grated ginger.
4.Add one tsp miso paste.
5.Give a nice stir, and then add the vegetable stock.
6.Bring to a steady simmer.
7.orange juice, soya sauce, togarashi peppers, a pinch of salt and bring to a boil.
4. garnish with cubes of tofu.