Raw Mango and Avocado Roll
Date: Jul 4, 2019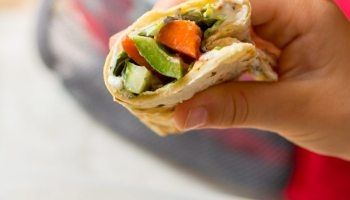 For Filling Ingredients- 1/2 raw mango (cut into thin slice)
1/4 avocado (thin sliced)
1/4 cup purple cabbage(thin sliced)
1/4 cup lettuce(chopped)
1/4 cup carrot (cut into long slice)
salsa-2 tsp

For Chapati Ingredients-
wheat flour- 1/2 cup
soaked flax seeds- 1 tabs
water- as per requirement

Method- Take a large bowl, Add wheat flour,flax seeds, water and make a smooth dough, keep it aside for 10 minute.
In a big bowl mix raw mango, avocado, cabbage, carrot and lettuce,then add salsa and mix well. keep it aside.
Take the dough and make ball of equal size and roll with a rolling pin to 6-8 inches roti. Now cook the roti both side by turning up side down. then place 2 tbsp filling on each roti, spread evenly and roll it.