Raw Mango Salad (Recipe To Beat Summer Heat)
Date: Jun 19, 2019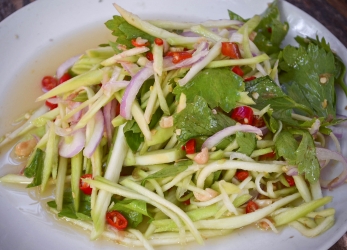 Ingredients-

Raw mango -1(thickly grated)
Beans sprout- 1 serving spoon
Naturally brewed light organic soy sauce - 1 tsp
Roasted peanuts (crushed)- 1 Tbsp
salt- to taste
Green chilli- 1 (finely chopped)
Tomato- 1 (chopped)
onion-1 (thin slice)

For garnish-
coriander leaves- 1 table spoon finely chopped
Mint- 1 tsp (finely chopped)

Method- Take a bowl, add raw mango, onion, tomatoes,beans sprouts, salt and toss them well. Top it with, green chilli, peanuts,coriander and mint. Add soy sauce just before serving.