Red Pumpkin Parantha
Date: Sep 1, 2017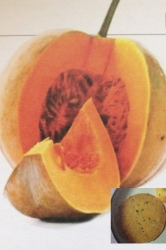 Red Pumpkin Parantha

Ingredients

Red Pumpkin -100gms
Whole wheat flour-100gms
Fresh coriander-2 tsp
Cumin powder-1/2 tsp
Chili powder-1/4 tsp
Turmeric powder- ½ tsp
Ajwain- ½ tsp
Salt to taste
Oil/ghee-1 tbsp

Method -

Cut the pieces of red pumpkin and steam it for 7-8 minute. Allow it to cool and peel them off. Mash pieces of pumpkin and add wheat flour in it. Add coriander leaves, salt, ajwain, 1 tsp oil, turmeric, red chili and cumin powder in this mixture and knead well. Extra water is not needed to prepare dough. Make small bowl and roll like roti.Heat tawa on gas on low fire. Spread paratha on it and roast both side, apply little oil and cook properly.Serve with raita or green chutney.