red rice salad with cucumber and tomato
Date: Feb 20, 2018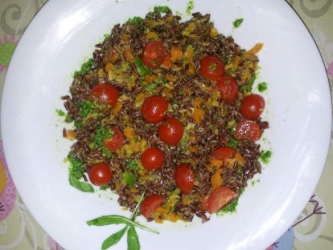 Ingredients-1 cup red rice
Salt acc. To taste
Balsamic vinegar acc. to taste.
1 Table spoons extra-virgin olive oil
3/4 cup tomato
1/4 cup corn
1/4 cup diced cucumber
1/4 cup chopped bell peper
1/4 cup thinly sliced spring onion
8 basil leaves,
4 teaspoons fresh chopped coriander
Freshly cracked black pepper
Method-
Bring a large pot of water to a boil. Add little salt and rice boil until the grains become tender. Drain the rice very well and spread in a large bowl to air dry it. Drizzle with vinegar and little olive oil.
Transfer the rice to a large bowl. Toss with the tomatoes, corn, cucumber, bell pepper,spring onion, herbs, and the remaining oil. Season with salt,black pepper, and more vinegar if the salad needs a lift and serve.