Refreshing couscous salad for summer
Date: May 27, 2020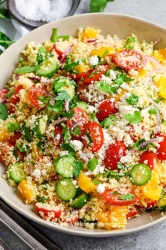 Ingredients-
couscous 1/2 cup
Cherry tomatoes,halved-1/2 cup
onion, chopped -1/4th cup
Red and yellow capsicum, sliced- 1/4th cup
salt and pepper to taste
Fresh Parsley chopped-2 Tbs
For Dressing;
1 tbsp orange juice
1 tsp extra virgin olive oil
a pinch of mustard powder
1 tsp balsamic vinegar
Direction
Put 1/2 cup couscous in 1 cup hot water and cover it for 10 minutes. Then fluff with the help of a fork. Drain out all extra water if it is there and keep it aside to cool. Add all vegetables to couscous and toss them well.
Whisk olive oil,orange juice, mustard powder,balsamic vinegar together and add to the salad. mix well.
garnish with chopped parsley.