Roasted Pumpkin and Apple soup
Date: Jul 31, 2020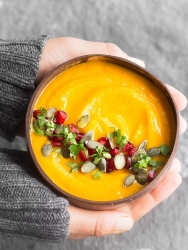 INGREDIENTS
250 grams Green pumpkin
1 apple , peeled and sliced
1 medium onion, sliced
2 cloves garlic
1 tsp olive oil
salt to taste
300 ml (1¼ cup) vegetable stock
freshly ground black pepper to taste
GARNISH:
1 tbsp pomegranate
1 tsp pumpkin seeds
fresh parsley finely chopped
Method-
Peel the pumpkin,deseed it grease with oilve oil and cut into thick long slices and roast in oven for 20 minutes along with onion slices.once roasted keep them to cool.
In a blender , add garlic, pumpkin , onion , apple, vegetable stock , salt and pepper , cayenne and blend to make puree. add more veg stock make it little thin in consistency.
Put the soup in a bowl and garnish with pomegranate, pumpkin seed and freshly chopped parsley.