Salmon with citrus – cilantro salsa
Date: May 15, 2018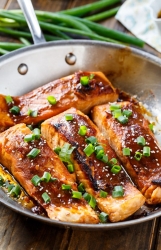 Ingredients
¼ tsp salt
¼ tsp ground red pepper
¼ tsp ground black pepper
1 cup orange segment, with membranes removed (1 med)
¼ cup chopped, fresh cilantro/ coriander
2 green onions, chopped (1/4 cup)
1 tsp canola oil or olive oil
1/8 tsp salt
Method-
· Preheat oven to 350 degree.
· Place salmon, skin side down, on a baking sheet coated with cooking spray. Combine salt, ground red pepper, and paprika in a small dish. Sprinkle mixture evenly over salmon fillets.
· Bake at 350 degree for 10 min, or until fish flakes easily with a fork.
· While fish is baking, slice orange segments into 1- inch pieces. Combine orange segment, and the next 5 ingredients in a small bowl.
· When the fish has finished baking, place each fillet on a serving plate. Spoon about 1/3 cup of the salsa into each salmon fillet.