Sindhi kadhi
Date: Oct 15, 2022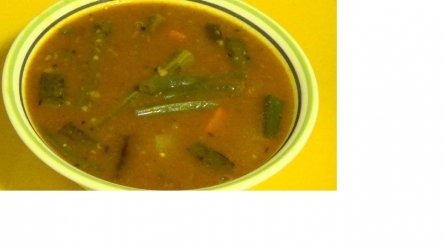 Ingredients: serving size 1
1 tsp oil
a pinch of asafetida
1/3rd tsp mustard seed
1/3rd tsp - cumin seeds
1/3rd tsp fenugreek seeds
4-5 curry leaves
1/4th tsp haldi
1/4th tsp red chilly powder
salt to taste.
2 tsp besan
2-3 lady's finger
2-3 pieces of drum sticks
1 carrot
2 tbsp home made tomato puree


Method
Wash lady's finger properly. just sprinkle 1/2 tsp besan on it and mix. air fry it.
Take a heavy bottom vessel and heat it. Put oil, add asafetida, mustard seeds, cumin seeds, fenugreek seeds and curry leaves. stir it. Add besan and mix it well. add 1/2 cup of water and stir till there is no lump of besan. Add haldi, chilly powder and tomato puree and stir. add 1 cup water and cook till boil. Now add airfried ladysfinger, diced carrot, drumstick and cook untill tender. Add salt to taste and cook for another 5 mins.

Serve with red or brown rice or quinoa.