Spicy Guacamole 🥑
Date: Aug 6, 2022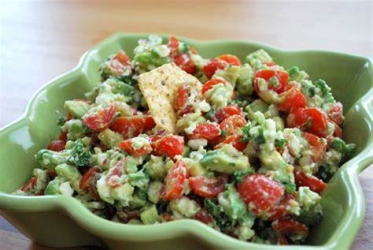 Ingredients
1 Ripe avocado
1 small tomato chopped
1/2 Red onion Finely chopped
1 tbsp coconut milk
1/2 tsp dried garlic powder
2 finely chopped Thai Bird Eye Red chilly
salt to taste.
Method
Cut avocado into 2 halves. Remove the seed and scoop the pulp and mash it with the help of a spoon.
Hand pound tomatoes,onions and Red chilly. Add mashed avocado, garlic powder, salt and mix well.
add 1 tbsp coconut milk and mix again.
Serve with multigrain crackers or steamed/ raw vegetable sticks.