Steel Cut Oats Soup
Date: Nov 17, 2018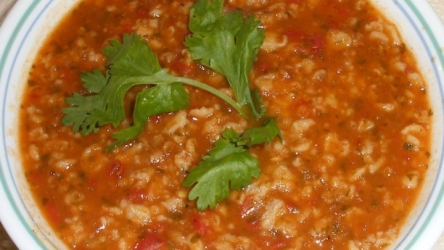 ingredients-
1 teaspoon olive oil
1 onion, diced
1 medium carrots, peeled and diced
1/2 cup spring onion (chopped)
2-3 cloves garlic, minced
1 bay leaves
1/2 cup beans(chopped)
3 cup vegetable broth
1 tbsp steel cut oats
1 tsp fresh coriander(for garnish)
Salt and black pepper to taste

Method-
Cook steel cut oats in water for 10 minutes over medium heat.and keep aside.
Place a soup pot over medium heat and coat with olive oil. Add the onion, carrots, beans and spring onion and cook until tender, about 5 minutes. Stir in garlic, bay leaves.
Pour in the vegetable broth and bring the liquid to a boil. Add the steel cut oats and continue to simmer for 5 minutes to cook the oats and veggies. Stir the soup occasionally while simmering. add salt and black pepper to taste. Garnish with coriander. Ladle into bowl and serve.