summer salad
Date: Jun 3, 2022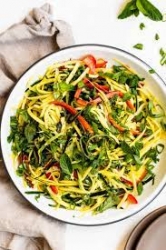 Ingredients
1 Medium size Raw mango
8-10 green grapes
a fistfull fresh coriander-chopped roughly
70g paneer/ tofu small cubes
1/2 cup shredded red,yellow bellpeppers
salt to taste
2 tsp roasted crushed peanuts
For dressing
1 tsp Tamarind paste
1/4 tsp dried garlic powder
1/4 tsp Jaggery powder
mint leaves for Granishing
Method--
Wash mango properly,peel it and then grate it.Cut grapes into 2 equal halves.
Take a mixing bowl,add shredded mango,grapes,chopped coriander, shredded red yellow bellpepper,paneer/ tofu and keep it aside. In a small bowl mix tamarind paste,jaggery powder and dried garlic powder properly.
Add this dressing into the salad bowl and toss it.
Garnish with crushed peanuts and mint leaves.