sweet chilli quinoa salad
Date: Jun 1, 2020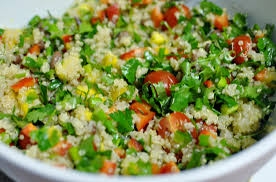 Ingredients
1 cup quinoa
1/2 cup boiled chick pea
cherry tomatoes
1 tbsp chopped coriander
1 small onion, chopped
2 green chilly, chopped ( optional)
Dressing
1 tbsp lime juice
1 tsp crushed garlic
1 tsp olive oil
2 tsp sweet chilli sauce
salt and pepper to taste.
Direction
Boil quinoa in 2 cup water at high flame for 5 minutes and then simmer for 10 mins. Once quinoa becomes tender switch off the flame.Drain if extra water is there. keep aside to cool.
Whisk lime juice ,crushed garlic,olive oil, salt and pepper in a bowl. Add the vegetables, chickpea,the dressing and sweet chilli sauce to the quinoa and toss to coat it well with the dressing. Garnish chopped coriander and serve.