Sweet potato, carrot and ginger soup
Date: Nov 24, 2017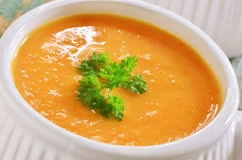 Sweet potato, carrot and ginger soup

Ingredients
1 tsp olive oil
1/2 onion, chopped
1 garlic clove, crushed
200 carrots, peeled & roughly chopped
200gms sweet potato, peeled & roughly chopped
1 tsp fresh ginger, peeled & grated (use a little more if you prefer a hotter flavour)
500 ml veg stock
Salt & pepper to taste.
Method-
Heat the oil in a large pan. Add the onion and cook gently for 6-7 minutes until soft. Add the garlic and cook for another couple of minutes.
Add the carrots, sweet potato and ginger. Stir together and cook for a minute or two. Add the stock, bring to the boil, reduce the heat and simmer for 15 minutes, until the vegetables are soft. Season well to taste. Churn in a food processor until smooth.