sweet potato cutlet
Date: Jan 18, 2023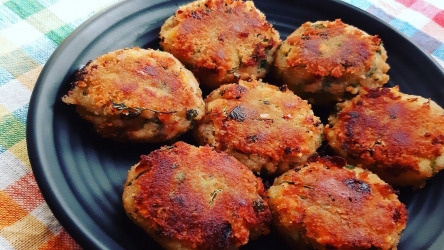 Ingredients
2 Sweet potatoes ( 200g)
1 tbsp boiled green peas
1 tbsp chopped beans
1 tbsp rice flour
1/2 tsp Chaat masala
1/4 tsp Amchur powder
1 tsp Lemon juice
1/4 tsp Cumin powder
1/4 tsp Garam masala
1 tbsp freshly chopped green coriander
Salt to taste
2 tsp oil
Direction
Wash sweet potatoes properly and then pressure cook with water. Peel them and keep aside to cool. once cool mash it with hands or using a potato masher.Also mash green peas , but not very smooth.
Now take a mixing bowl, add mashed sweet potato , chopped beans , green peas,rice flour, chaat masala, cumin powder, amchur , garam masala , salt , chopped coriander, lime juice and mix well. Make a soft dough. Take small portions of the dough and make small patties.
Air fry the patties in air fryer by just greasing with little oil.