sweet pumpkin parantha
Date: May 22, 2020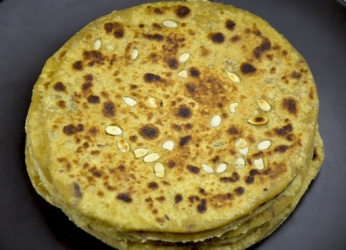 Ingredients
200g pumpkin cut into peices with outer skin
200g whole wheat flour
2 tsp ghee
1 tbsp grated jaggery
salt as per taste
Method
Steam the cut pieces of red pumpkin. keep aside to cool. Add jaggery and 1 tsp ghee to it. Mash all pieces,add whole wheat flour, salt and knead it. no need to add water.
Make small balls out of it and roll it like roti. On a heated tawa cook it from both the side.
Grease little ghee and serve.