Teryaki stir fry rice bowl meal
Date: Jul 28, 2021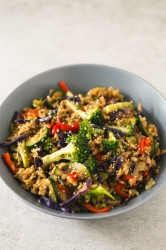 Ingredients for stir fry veggies

1 red onion,thinly sliced
1/2 cup red and yellow bellpepper,thinly sliced
1/2 cup carrot, thinly sliced
1/2 cup beans,cut into small pieces
1/3rd cup broccoli florets
3-4 cloves garlic, chopped
salt and pepper to taste
1 tsp toasted seasame seed
2 tsp olive oil
1 tsp teriyaki sauce

Ingredients for making quinoa
1/2 cup quinoa or brown rice
2 cup water

Method :

In a pan, heat olive oil.Put garlic, onion and saute untill brown. Now add veggies, salt, pepper and stir fry at medium flame for 7-8 minutes

Now take another vessel and add a cup water and allow to boil. wash quinoa properly and add to the boiling water. cook untill tender. drain out extra water and allow it to cool.

Add quinoa to the stir fry veggies. add teriyaki sauce and mix well. Now sprinkle toasted sesame seed and serve.

## you can use black rice/ red rice / brown rice replacing quinoa also.