Thai prawn/ tofu mango salad
Date: Jul 7, 2023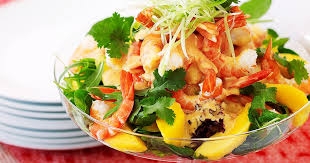 Ingredients
150g medium size or large size prawn, shelled or Tofu 100g
1 cup red bellpepper, sliced
1 ripe mango, peeled ,cut into cubes
1 small onion, petals
1 tsp grated ginger
3 cloves garlic, minced
1/4th cup coriander, chopped
1/4th cup basil leaves
1/4th cup mint leaves
salt and pepper to taste
2 tsp sweet chilli dressing
2 tsp lime juice
Method
boil water in a pot , add little salt and prawn. cook till the prawn start to curl and turn pink.
Remove prawn and run under cold water and keep aside.
Add sweet chilli sauce, ginger , garlic, lime juice , salt in a bowl and whisk to combine.
Take a serving bowl, add prawn, mango , greens, bellpepper, onion and the dressing.
Toss to combine well.
you can serve the salad immediately or after refrigerating it for 10-15 mins too.