Thukpa soup
Date: Jan 5, 2018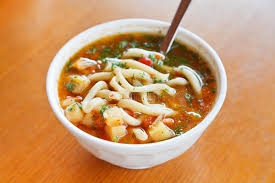 Thukpa soup
Ingredients
For paste
Onion-1 big (chopped)
Garlic-2 cloves (chopped)
Ginger-1 small cube
Cumin powder-1/2 tsp
Turmeric powder-1 pinch
Green chilli-1 /2 no.
Tomatoes-2 no
For soup
Ingredients
Vegetable oil-1 tsp
Onion-1 small (slices)
Noodles-50 gm
Mushroom-1(thin slices)
Carrots-1/2 no (cut into long strips)
Red pepper-1tsp
Lime juice-1/2 tsp
Black pepper-1/4tsp (crushed)
Coriander leaves-for garnishing
Vegetable stock-500ml
Salt acc taste
Method-For paste, mix all ingredients in a food processor and blend gently. Heat oil in a pan over medium heat. Add the paste and cook it till it loses its raw smell. Pour vegetable stock in this and bring to boil. Reduce the heat and let it simmer for 15 minutes. Meanwhile boil water in another pan .Add noodles and cook for two minutes. Drain the water and spread it in a tray. Add mushrooms, carrots and pepper in boiling stock and cook it till vegetables become tender. Off the gas. Add lemon juice in it. Put the noodles in serving bowl. Pour the vegetables on the noodles. Garnish with coriander.