tofu/paneer and veg shashlik
Date: Aug 12, 2020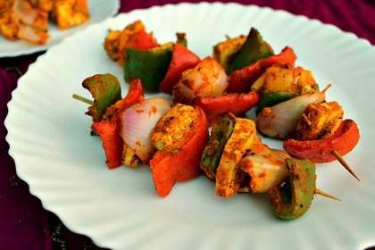 Ingredients
For Marinade:
1 tsp oilve oil
1 Tbsp Kasoori methi-roasted and powdered
1 and 1/2 tsp chopped garlic
1 tbsp lemon juice
1/2 tsp Kashmiri/Degi Mirch Powder
salt to taste
3/4 tsp zeera Powder
1/2 tsp chopped ginger
1/2 tsp green chilli paste
1 tbsp hung curd
1 tsp Cornflour or Rice flour
other ingredients
1 tsp olive oil
3-4 cubes paneer /tofu
1 1/2 slice of brinjal
6 red capsicum cubes
3 blanched mushroom
6 yellow capsicum cubes
6 cauliflower florets
6 onion cubes
1 carrot roundels
method
for marinade
combine all the ingredients along with 1 tsp water and blend in a mixer to smooth paste. keep aside.
1. heat 1/2 tsp oil in a broad non stick pan add brinjal and cook on a slow flame fpr 3-4 minutes.
2.combine all brinjals and all the remaining ingredients including the marinade in a bowl and toss well. keep for 30 minutes
3. thread a piece of each veg on a shashlik stick.
4. cook each shashlik on a non stick griddle using little oil, till the vegetables turn brown in colour on all the sides
5. serve hot.