Tom Kha soup
Date: Oct 11, 2023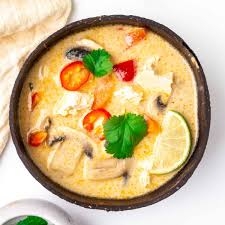 Ingredients
1/4 cup chopped carrots
1/4 cup chopped cauliflower florets
1/2 cup chopped white button mushrooms
1 big onion, cut into big slices
3-4 garlic clove,finely chopped
1/4 cup chopped capsicum (green bell pepper)
1 inches galangal, chopped into small pieces
2-3 keffir lime leaves, torn into pieces
1-2 small thai red chillies, chopped
2 lemon grass stalk
salt to taste
1 tsp coconut oil / sesame oil / olive oil
1 tbsp coconut milk
1 tsp fresh coriander leaves

Method

Heat 2 tsp coconut oil in a pan. Add sliced onions and finely chopped garlic. Sauté for two minutes on low to low-medium heat, until the onions begin to soften. Now you can add mix veggies. Mix well and sauté for 2 to 3 minutes on low to medium-low heat. Now add the chopped Thai chillies, torn kaffir leaves, sliced galangal and lemongrass stalks, and sea salt (as needed).add 1 cup of water and mix well. Cover and simmer on low to medium-low heat until vegetables are tender. Add 1 tbsp thick coconut milk and gently heat for 1 to 2 minutes on a low heat. Pour into soup bowls. Garnish with fresh coriander leaves and serve hot.